Follow Your Favorites!

Sign in
to get custom notifications of new products!

Featured Product
Pathfinder: The Shroud of Four Silences ePub
by Paizo
From fan-favorite author Liane Merciel (Nightglass, Nightblade, and Hellknight) comes a gritty tale of fledgling adventurers taking their first steps into a dangerous world, set in the award-winning world of the Pathfinder Roleplaying Game.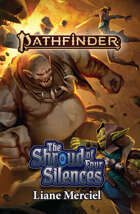 | Products found in this section... | Sort by: |
| --- | --- |
| | | |
| --- | --- | --- |
| Title | Publisher | Price |
| An Exciting New Piece of Pathfinder Fiction When an elderly paladin of Iomadae is called to confront an ancient family curse, he will need more than a strong sword arm if he's to keep his loved ones safe. Pitor was humming a hymn under his breath when a purple crack fractured its way across the empty space at the rear of the temple. One moment there had been nothing. The next, a sickly light... [click here for more] | Paizo | Pay What You Want |
| Calistria's temple in Mivon is a place of abundant affection – at least, it is for those bearing gold. Unfortunately, Edmund Boyle was born penniless, the unwanted son of a temple prostitute. As the years pass, he finds few friends, much hardship, and a fierce devotion to the Goddess who extolls the virtues of revenge. When – after years at sea – his long-lost father returns to the temple... [click here for more] | Paizo | Pay What You Want |
| Over a decade after his defeat in the Eye of the Avarice, Karzoug finds himself back in the land of the living thanks to the most surprising fluke of fate. Even as a wizard of his caliber, being alive doesn't mean he is prepared to face what is waiting for him when he wakes up. He has lost everything he had: no wealth, no spellbooks, no weapons, no minions at his beck and call. Can the Runelord of... [click here for more] | Paizo | $3.95 |
| When a small coastal festival is attacked by goblins, three unlikely outcasts band together to save the day. The aasimar Zaphiel Wrathsong, Anon the ifrit, and Dr. Alexi Lovestein must use their skills as a ranger, a summoner, and an expelled alchemist to investigate the attack and discover the motives of the mastermind behind it. But the truth will take them somewhere they never expected to be—on... [click here for more] | Paizo | $4.99 |
| Story Scrolls is a series of Pathfinder-inspired short stories. If you like this work, and are active on social media, please give me a shout-out at @MRivettAuthor on Twitter. Each story will include a 40x40 battlemap related to the narrative. Redemption in Blackstone Hollows tells the tale of Champion Renaud Landry's confrontation with a goblin king, and how truth can be more powerful than... [click here for more] | Paizo | $2.00 |
| Story Scrolls is a series of Pathfinder-inspired short stories. If you like this work, and are active on social media, please give me a shout-out at @MRivettAuthor on Twitter. Each story will include a 40x40 battlemap related to the narrative. The Criers' Guild explores how those who do not or cannot aspire to be heroes might be forced into moral compromise,... [click here for more] | Paizo | $2.00 |
| After a gruesome murder shocks Sandpoint, Zaphiel Wrathsong, Anon the ifrit, and Dr. Lovestein, along with Ava the rogue and bloodrager Asmodeus, band together again to save the day by hunting down the murderer. But as the trail takes them deeper into danger, the unlikely heroes start to ask themselves—how well do they really know the people of Sandpoint? And how well do they really know each other?... [click here for more] | Paizo | $4.99 |
| For Wendlyn, the coastal logging town of Otari provides more opportunities for mischief than true adventures, but that's about to change. When she and her friend Eleukas, a member of the village guard, stumble across a horrible accident on the outskirts of town, they soon find themselves embroiled in a mystery that will take them far beyond the safety of their hometown. With the help of Wendlyn's sister—an... [click here for more] | Paizo | $4.99 |
| When a rare, dangerous disease threatens Lord Foxglove's life, Zaphiel, Anon, Dr. Lovesten, Ava, and Asmodeus seek a cure in the great city of Magnimar. Along the way, they cross paths with an obsessive group of monster hunters who believe a werewolf hides amidst the heroes. Meanwhile, Dr. Lovestein's family hints they know Ava's mysterious past, but the truth could prove more deadly than the... [click here for more] | Paizo | $4.99 |
| A novella in the Lost Omens setting. In a distant corner of the Lands of the Linnorm Kings, sickly, young Runa expected nothing more than to live out her whole life by the fireside on her family farm. Her only consolation is her skill at board games. But when a trio of norns come to challenge her to a series of games, they warn her of coming disaster. Runa must use all her wit to outplay the far more... [click here for more] | Paizo | Pay What You Want |